Safari for Mac and iPhone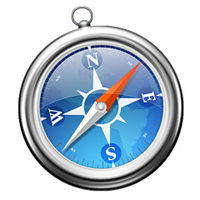 There are many advanced features present in this browser that gives you a different experience of browsing the web on your iPhone and iMac. The searches are faster when comparing the counterparts as the web pages are loaded smarter and quicker.
The tabs are displayed distinctly with easy to use interface. The web pages can be tweeted, posted to Facebook, and also can also be shared as an email. The search bar and the address bar are combined in a smarter way. When you type the address of a web page, the browser will take you to the corresponding page in a faster time. The address bar in Safari for iPhone and iMac will be auto filled based on the bookmarks and the history making it easier for you to look into pages that are of relevance.
When you do not enter a web address, the search bar comes in to play and gives you the search results based on the settings you have made. The tab view comes in as a big surprise, as the tabs are displayed in a way it attracts the viewers. All the open tabs are displayed in the middle of the screen and when you swipe them left or right, the pages are moved. When you tap a tab, the website is launched.
There are two methods of launching the tab view, one using the View tabs option present in the settings and the other is the show all tabs option present in the View menu. The arrow keys can be used to move the tabs left to right. The iCloud feature is one of the innovations by Apple where the web pages that were viewed last in the Mac system can be opened right away in the Safari browser of iPad, iPhone, iPod.
This comes in handy when you leave your web page in the middle and want to load the same wherever you go. The iCloud tab in the device is used to load the web page. To ensure privacy, the URLs are encrypted. The feature can also be restricted by starting private browsing.
Sharing things have become easier in this newer version of the browser. The share option can be used to share the web pages in Facebook, Twitter or email etc. The shared pages can also be commented and tweeted. With so many features lining the way, the Safari browser for Apple is the best one can get.